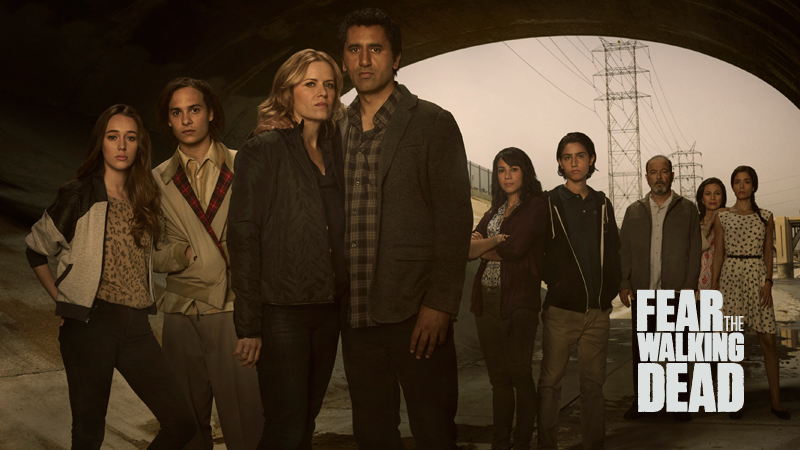 Blog, Specials
5 Reasons to be Afraid of Fear the Walking Dead
Fear the Walking Dead moves the thrilling survival adventure storyline, started by The Walking Dead, back in time to depict the start of the infection.
Nobody knows why or how the undead came to roam the earth and Fear The Walking Dead is set to answer that burning question. However, one thing we do know already is that the new series should be even more terrifying than its predecessor.
Here's five reasons to be afraid of Fear…
The concrete jungle
As well as jumping back to the beginning of the crisis, Fear The Walking Dead also switches locations from the rural forests of America's east coast to the bustling metropolis of Los Angeles.
With a population of around four million, all at risk of becoming infected, LA will present an entirely new challenge for characters in Fear The Walking Dead. More undead, means more fear.
Family problems
Fear will tell a completely different story from its predecessor with new and intriguing characters. The series follows a divorced teacher named Travis and his highly dysfunctional, blended family.
How they come together as a group will be fascinating to watch but, unlike the protagonists in The Walking Dead, our new heroes are not yet experts when it comes to protecting themselves. They have no idea what's coming, or how to handle it. Can they react to the ensuing crisis in time?
Fresh meat
With the new series, comes new dangers. The undead stars of Fear The Walking Dead have only recently been infected and, as a result, are not that dissimilar to humans.
They will not be the decayed and rotting corpses that ruled the world of The Walking Dead. They will be much harder to spot, and much scarier to watch. Trust no one!
Every man for himself
In The Walking Dead, Rick Grimes quickly learned to fight the dead, but fear the living more, as he strived to protect his group at all costs.
But at the start of a crisis in the city, as panic sets in and desperation takes over, Travis and his family will no doubt have watch out for both the living and the dead from the very start.
Reality bites
The most exciting, and terrifying, thing about this new series will be watching the crisis unfold, through the eyes of average, innocent and unsuspecting people, as if it was happening to you or me.
That's because every zombie fan out there has wondered – if the world did fall into undead hands, would they survive? Fear The Walking Dead will bring that question, and all its possible answers to life.
If you think you can handle it, tune in to the AMC UK for the first episode of Fear The Walking Dead, on Monday 31st August at 9pm – exclusively for BT customers.