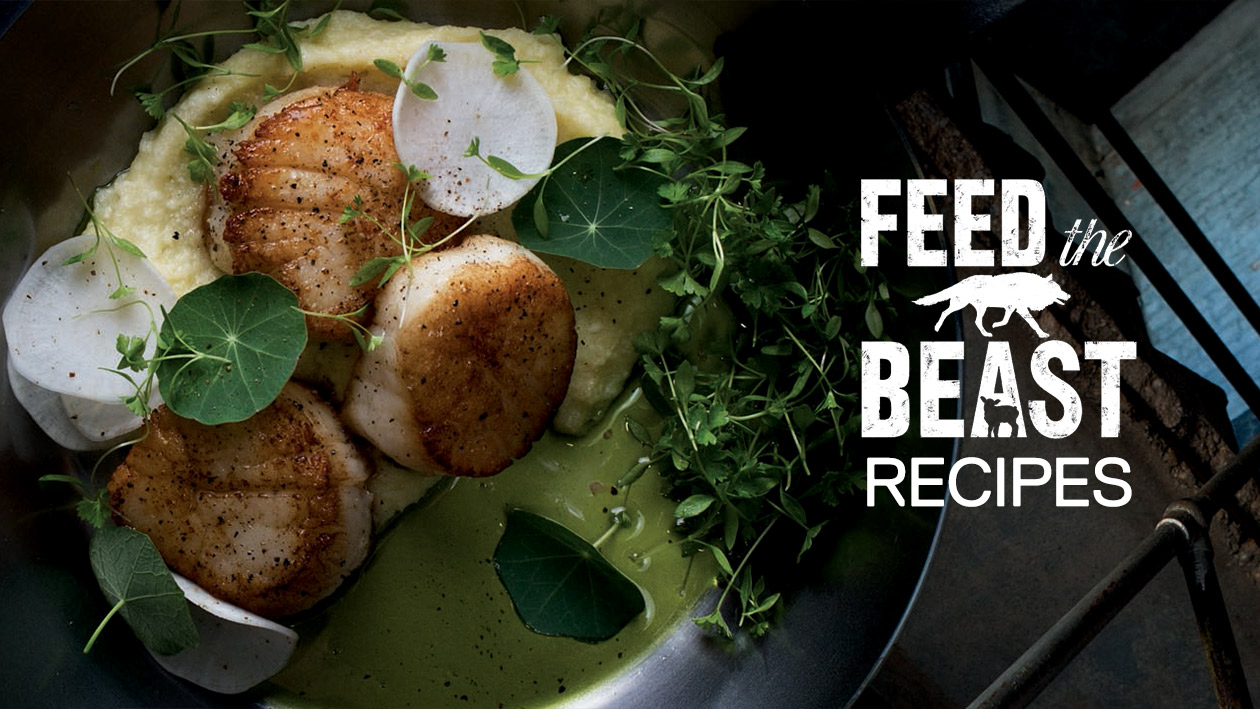 Blog, Specials
Feed the Beast: Recipes from Thirio
Channel your inner Dion and cook the dishes from AMC's new show, Feed the Beast.
Kale and White Bean Toast
Ingredients
FOR THE BEANS:
• ½ pound dry white beans
• 2 tablespoons olive oil
• 3 cloves garlic
• ½ teaspoon Kosher salt
• Sprig of thyme
FOR THE PESTO:
• 1 small bunch kale
• ½ cup whole unblanched almonds
• 2 garlic cloves
• ½ cup grated Pecorino cheese
• 1⁄3-1/2 cup extra-virgin olive oil, and more as needed
• 4 thick slices rustic sourdough
• ½ cup large capers
• Baby kale chips
Recipe
In a large pot, cover beans by 3 inches with cold water, cover and bring to a boil. Boil for 1 minute, remove pot from heat and set aside, covered, for 1 hour.
Combine kale, almonds, and garlic in the bowl of a food processor, and pulse until finely chopped. Add cheese and ⅓ cup oil, drizzling in more as needed.
Set aside.
Drain soaked beans and transfer to a large pot. Cover by 2 inches with cold water, add olive oil, garlic, thyme sprig, and salt and bring to a boil; skim off and discard any foam on the surface. Reduce heat,
partially cover and simmer, gently stirring occasionally, until beans are tender, 1 to 1 1/2 hours.
Let cool in liquid. Discard thyme stems.
Spoon about 1⁄3 of the beans and the cooked garlic cloves into a blender, with a little bit of bean liquid.
Purée until smooth. Add more liquid if necessary to make a thick, spreadable, purée. Set aside.
Drain the remaining beans, and transfer to a bowl.
Mix with a spoonful or two of the kale pesto.
Drain and rinse the capers, and thoroughly pat dry. Bring a few inches of neutral oil up to frying temperature, and fry the capers until crisp. Drain on a paper towel.
Grill or toast the bread until brown on the edges but still soft in the centre. Slather each slice of toast with pesto, and spread with the bean purée. Top with beans, and garnish with the fried capers and the kale chips.
Seared Scallops with Skordalia
Ingredients
SERVES 4
• 1 bunch flat-leaf parsley, blanched, shocked, and dried
• 470ml plus 2 tsps extra-virgin olive oil, divided
• 2 russet potatoes, scrubbed
• 85g blanched slivered almonds
• 2-3 garlic cloves
• 118g water
• 1 tbsp lemon juice
• Coarse salt and freshly ground pepper, to taste
• 2 tsp butter
• 12 sea scallops (preferably wild diver scallops)
• 2 Hakurei turnips, peeled
• Nasturtium leaves, for garnish (optional)
• Parsley microgreens, for garnish
Recipe
In a blender, combine parsley and 1 cup olive oil.
Blend on high until completely smooth.
Let stand for several hours or overnight, then strain through a fine mesh strainer.
Discard solids. Refrigerate until needed.
Cut potatoes into quarters, and put in a large saucepan.
Cover by 2 inches with cold water, add ½ teaspoon salt, and bring to a boil. Reduce to a simmer, and cook 20 minutes, or until tender when pierced with the tip of a paring knife.
Drain in a colander, and when cool enough to handle, remove the skins. Pass through a ricer or food mill. Place in a metal bowl and keep warm over simmering water.
In a blender, combine 1 cup olive oil, almonds, garlic, water, and lemon juice, and purée until very smooth. Fold into the potatoes, salt to taste, and keep warm. Thin with water if needed to loosen.
Remove the small muscle on the side of each scallop, rinse, and pat dry. Season lightly with salt and pepper.
Heat 2 teaspoons oil in a heavy sauté pan, and add 2 teaspoons butter. Sear the scallops for 1-2 minutes on each side, until well-browned, but still moist and translucent within. Place a spoonful of skordalia on each of 4 plates, followed by the parsley oil. Top with 3 scallops each. Using a mandoline, shave the turnips thinly over top, and garnish with parsley microgreens.
Prosciutto and Fennel Branzino
Ingredients
SERVES 4
• 4 1-lb. whole branzino, gutted and scaled
• Kosher salt and freshly ground pepper
• 2 lemons
• Fennel stalks, some fronds reserved
• Extra-virgin olive oil
• 6 oz. prosciutto, (12 thin slices)
Recipe
Season the inside of the fish with salt and pepper.
Thinly slice one of the lemons and stuff the cavities with the lemon slices and the fennel stalks. Lightly oil
the fish and wrap each one with 3 slices of prosciutto, covering the centre section of the fish. Use more oil to
help the prosciutto adhere. This can be done several hours ahead of time.
Heat oven to 220°. Place two fish on each of two parchment-lined baking sheets, and place in oven.
Cook until fish is starting to crisp and brown, and it flakes easily near the backbone, about 20 minutes.
Garnish with the reserved fennel fronds, and serve immediately.