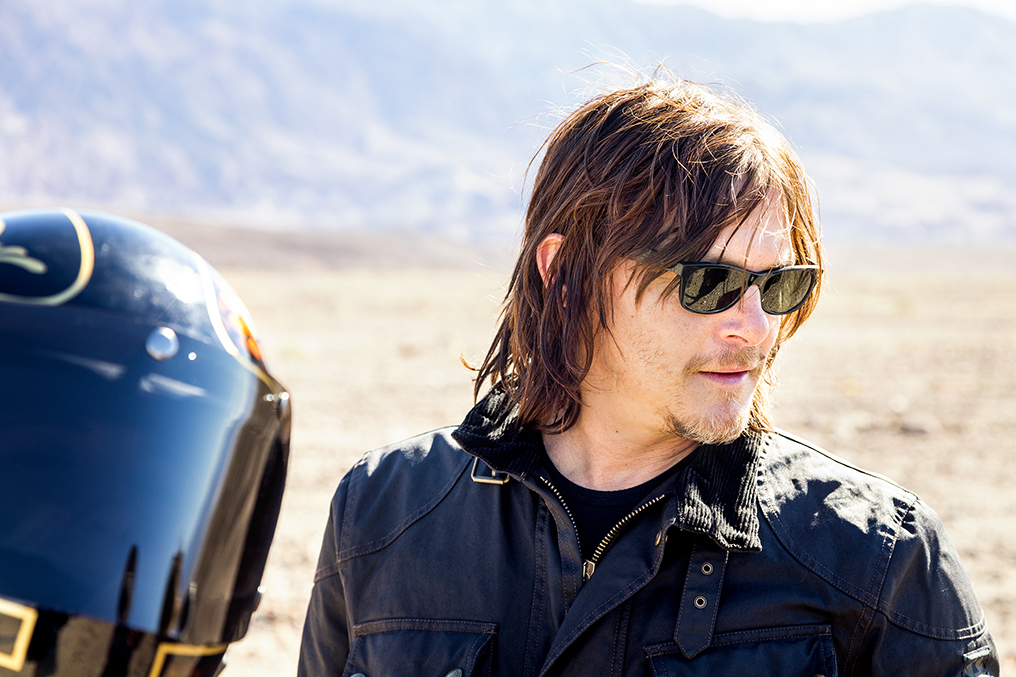 Blog, Interviews
Ride with Norman Reedus – Norman Reedus Q&A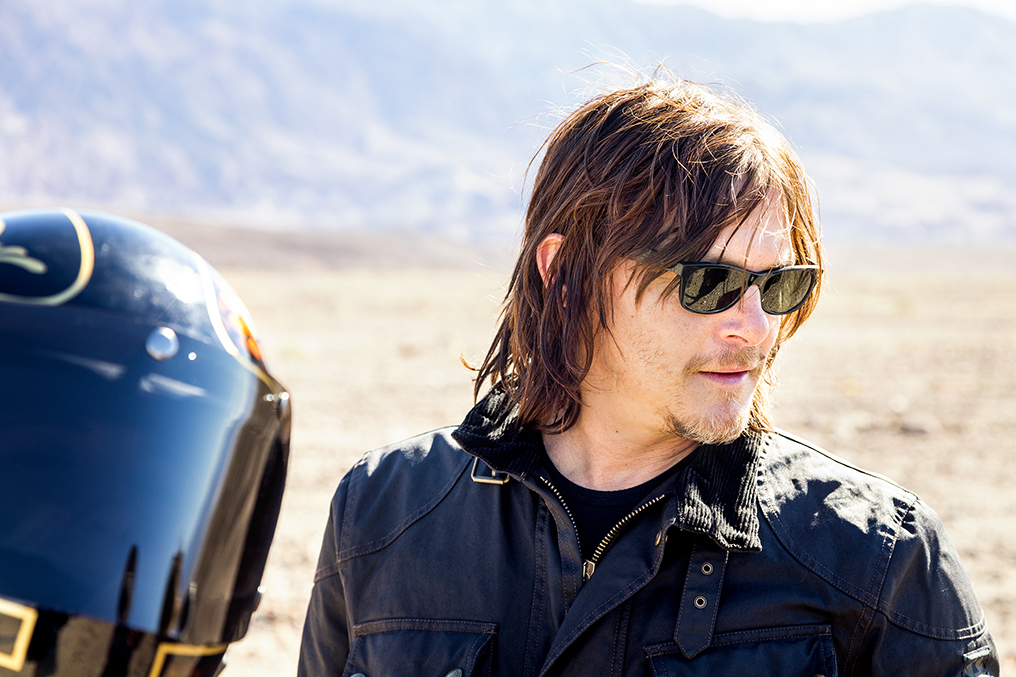 The latest addition to the AMC UK family will be familiar to most as Daryl Dixon on The Walking Dead. Starting from January he'll be trading in walkers for the open road in his cross-country motorcycle series, Ride with Norman Reedus. Reedus will take you on a one-of-a-kind journey from California to Florida while meeting the locals, sampling local delicacies and taking in the best views the United States has to offer.
Here we chat to Reedus about his greatest achievements, his chances of riding in the UK and…setting his friend's butt on fire while filming.
When did you start riding at what got you into motorcycles in the first place?
The first bike I ever played on was a YV 80 – a little tiny dirt bike. One of my childhood friends had it and we would always take turns riding. We were total hooligans. That was the first time I really got into bikes. I was constantly crashing; it was a lot of fun.
6 months ago you mentioned that you had a Harley, Two Triumphs, a Honda and a Tiger 800. Has your collection increased since then?
It has [laughs], I'm an asshole. The thing is, doing a motorcycle show people give you bikes, so my collections growing. I just gave a bike away to a friend of mine which is kinda a great story. He's a DJ from Brooklyn and he just had babies and moved to north Carolina. And he's like "dude I have two babies I'm Mr Mom all day I'm freaking out, I need some bro time."  He came down to Georgia when I was filming and put him on one of the motorcycles and he had a grin from ear to ear the whole time. So I was like "you can just keep the motorcycle".
He must've been so happy.
Yeah he was super stoked.
So does your love of motorbikes run in the family? Is your son interested at all? 
I think he is. I think he's a little nervous though. He lives in Manhattan so he's like "I'll take the subway. I don't need a car." But sometimes I'll put him on the back of my bike just to scare him a little. Eventually he'll probably want one. Even if he has to be padded up like an NFL [player] or covered in diapers.
What's the craziest thing that happened on the road while you were shooting?
A friend of mine who was in the episode we shot on New Orleans [Brent Hinds from the band Mastodon] had a seat-heater on his bike. It was super-hot in New Orleans and the seats would heat up really hot.  He'd pull up beside me and say  "my ass in on fire!" We were coming out of a hotel in New Orleans and I flipped it on as we were about to get on the freeway. He realised what I was doing and he started screaming at me as the light turned green. I'd left him there with his scolded butt trying to figure out how to turn the heater off. Then [the crew and myself] were waiting on the other side of the freeway to start filming and we're waiting for him to come around the corner, he stands up and starts screaming at me but while he's doing that he's fallen into me and we've sorta dominoed into a ditch. They cut it on film but it was a Laurel and Hardy. It wasn't cool at all.
The series shows you connecting with a lot of your fans – what's the best gift you've ever received during your career?
I've had a lot of taxidermy; I've gotten breast implants that no one knows about. I've also received oil paintings of my cat. My cat has a whole collection of portraits of himself.
Where outside the US would you love to ride? 
I would really love to do a Tokyo to Kyoto. We're trying to go to Spain this year and possibly the UK. One of the things that got me really into the show was Ewan McGregor and Charlie Boorman's A Long Way Round and seeing all the places that they went and how they bonded. I'd really love to do an around the world trip like that, that would be great.
Food plays a much bigger part of the show than a lot of fans will anticipate. Was that a conscious decision?
I don't think it was supposed to be as big a thing as it turned out being. But you go to a new place, meet locals and they say "don't go right here, go left here and check out this spot and that spot". So we'd meet somebody and be in New Orleans and we'd try alligator for example. It's a nice way to sit down and talk about what we saw and where we're headed.
You used to be a model in the 90s which comes as a surprise to a lot of people we speak to…
Me as well [laughs].
It's just that the fashion world seems so far away from the world of motorcycles. How much of "fashion" Norman exists today? Does he coexist the motorcycle Norman harmoniously?
You know the model thing…there's a series of actors who did it. John Malkovich did it, Tim Roth did it…
I was working on a movie and Ellen von Unwerth took some of the still shots around the set. Then she met with Prada and they said "oh we need another person, an actor" and I got that job somehow. I have no idea how I got that job. I think more people saw that campaign than the film I was in. But I'm short so I don't know how I got a modelling job in the first place.
What are your proudest professional and personal achievements so far?
I did artwork before I did acting and I'm still doing it. I'm kinda doing all the same things I did before I was acting and I like that. I like not letting go of the things I'm passionate about, while I'm doing other things I'm also passionate about. Just keeping my head above me and trying to stay me has been the best professional thing. [The Walking Dead's] Daryl is definitely the best character I've ever played. Having time to do a character for 7 years is such a blessing.
My biggest personal achievement is definitely my kid. Mingus is definitely my favourite thing I've ever done in my personal life.
What can we expect from the second season of Ride with Norman Reedus?
Joshua Tree's gonna be one of the places. I've always wanted to go there and I've never been. We're gonna go to Europe and we're gonna go to Hawaii. We're gonna do a New York episode. The thing is, it's filmed during the hiatus of The Walking Dead [in the Winter] so we have to go to warm places. So we're kinda limited sometimes as to the places we can go.
What message do you have for your UK fans?
I love the UK! I used to live in Tooting Bec for a second…at the end of the Northern line near Clapham Common. I used to go to that park all the time. I have a lot of friends there, I really like it. I've always really liked the culture and history and the architecture and people. It's one of my favourite places. I hope to be there soon. Andrew Lincoln's one of my BFFs so if you see him slap him on the butt for me.
I'll do that without any context.
He'll probably say "F*ckin' Norman told you to do that, didn't he?"
Ride with Norman Reedus is on Monday nights at 9 on AMC UK.